If you were in the market for a camera in 1995, disruptive (or traditional) advertising and marketing might have inspired you to make a new purchase. Today, however, the buyer's journey has changed drastically—no longer a linear path—we utilize multiple touch points and resources that influence our final purchasing decision.
Circa '95, you might have asked a few friends or family members for camera recommendations, but a majority of your research and comparison of products was done in-store. Without the internet, social media and a plethora of product review and comparison sites at your disposal, you would have relied heavily on the information given to you at a local specialty shop by a qualified sales representative.
The New Moment of Truth
According to Google, your first Zero Moment of Truth (pictured below) would have taken place in the store, and the second at home or on vacation while using your new camera. If you enjoyed your experience, you'd likely be a repeat customer.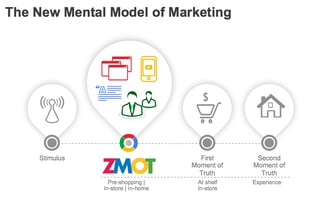 Twenty years later, the customer shopping experience has changed drastically.
Now, consumers have unlimited access to product and service information, enabling them to conduct independent research long before speaking to a sales person.
In the newly realized customer journey, you may reach out to your peers on social media, skim Amazon product reviews, or consult a reputable blog and read the "Best Digital Cameras of 2015." Because of the internet, you complete 60-80% of the research required to make a smart camera purchase long before you actually buy.
Once you reach the sales rep in-store or online (if you reach one at all), he or she must be positioned to add more value beyond the information you've already collected. Sales associates are now responsible for a much more targeted, relevant interaction—one that converts you from a sales qualified lead (SQL) into a customer.
Your Customer Expects More
Consumer mindsets and expectations in the buying process have shifted. Because they see each business as a single operation, they expect each stage of their journey to be cohesive, virtually seamless. Customers seek the relevance and sophistication of the Amazon experience, so to speak.
Historically, however, businesses were built to support three separate silos: marketing, sales and customer service. Each one handling different stages of the customer journey, carrying out three separate strategies, sets of brand messaging, and ultimately three different customer experiences.
As this journey tightens and expectations increase, businesses must be ready to adjust, too. If marketing and sales professionals are going to survive in this new landscape, they must be willing to converge.
The problem? Typically, company structure, culture and technology have not allowed marketers and sales reps to symbiotically align.
How Do We Align Sales and Marketing?
Smarketing
HubSpot coined "Smarketing" as the term for the process of melding sales and marketing teams. In the Smarketing method, companies align marketing and sales, allowing the groups to work together as two sides of the same team. This concept aims to converge the groups within a more intelligent structure, streamlining strategies and business goals.
Here's how to create a true Smarketing team in your organization:
Create the narrative. Marketing and sales teams come together to identify mutual goals. This requires each team to clearly communicate what it does, how it functions and the purpose behind these objectives.
Align strategies. Once mutually beneficial goals are identified, both teams help one another align their strategies. What can marketing do to help sales operate more efficiently? What can sales do to help marketing's campaign efforts more effective? Decipher what each team can do to uplift the other.
Clearly communicate goals and KPIs. Some goals will be specific to each group, but should be mutually understood. In this process, teams discuss roles and responsibilities to better understand the work they accomplish.
Maintain consistent collaboration and communication. Schedule regular meetings to review goals and current lead volume and quality. Remain in contact in order to stay on the same page.
Rely on data. For example, measure the volume of leads against your monthly goals, and assess regularly in partnership in order to adjust.
Service Level Agreement (SLA). Establish a formal commitment between sales and marketing to meet shared goals for revenue growth—it's a two-way process.
Hubspot Tools
Once your marketing and sales teams have been brought together as smarketers, key processes will help them work together cohesively and meet business goals. Seven HubSpot tools have been proven to be incredibly useful to align processes for smarketers, including:
Related Resource: Free Ebook: The Complete Guide to Unifying Your Sales + Marketing Efforts
The Smarketing Handoff
Marketers provide consumers with engaging, informative and meaningful product and service content. They often manage and disseminate media or user generated content, garnering prospects' attention and trust. Marketers deliver value, pricing and guidance to ensure the message is received.
When a customer is handed off from marketing to sales, this conversation continues. Sales will have the advantage of knowing the customer's prior online experience and their interactions with the marketing team. This will arm sales with prior knowledge needed to deliver additional value and close the deal.
It's up to both teams to ensure the handoff is smooth. Otherwise, a qualified lead can easily get lost in the middle.
It All Comes Down To Culture
With Smarketing practices and available products and processes in mind, aligning sales ultimately depends on the organization's culture and communication channels. Do your sales and marketing teams want to help each other? Are they willing to connect?
If not, no matter the sophistication of your processes and technology, they won't be successful. A lack of urgency and willingness to adapt to change will keep your marketing and sales teams from finding synergy in their work.
As a sales or marketing leader, take initiative to bring both groups to the table. The customer sees your company as one entity, so you should too.
Check out the complete slide deck from the HubSpot User Group event.